No admittance except on party business: A Hobbit House!
One of my all time favourite things to make are birthday cakes for those I love and this cake was for a very special little girl, my best friends daughter Baya.
Baya is loving Lord of the Rings and the Hobbit films at the moment, which is no surprise as Baya and her family live a very nature filled life & spend a lot of time outside in the country side, so her mum requested a Hobbit house cake.  The inside was a light fluffy vanilla sponge with butter cream & home made strawberry conserve, Baya's favourite.
So I set about making this extra special cake for one of my favourite little people.
I had a look at a few Hobbit house images and set about designing in my mind what the cake would look like.  I wanted to add little extra special details, so we have the One Ring on the door step, a bow & arrow for Baya's favourite character Legolas, a little fire pit & a mini vegetable patch with (of course it's organic) carrots, cauliflowers and the Hobbit staple Potatoes. (No second breakfast is complete with out them)
Baya's little face when she saw her cake was amazing & the reason I love making cakes for little people. She was over the moon with her own little Hobbit house.
Below are some photos of Baya's special little Hobbit house,
For more photos have a look at our Facebook album HERE.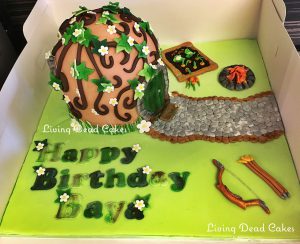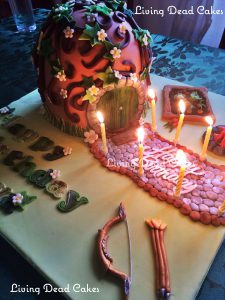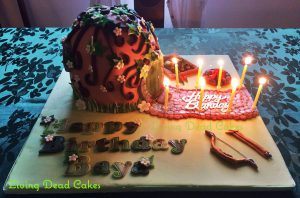 Happy Birthday sweetie, we all love you lots & lots xxx
Photo Credits, Living Dead Cakes, C. Jayne & B. Whitwell
For more photos have a look at our Facebook album HERE & give us a like.