These delicious muffins are perfect for breakfast with a cup of tea on lazy Sunday morning. I love having these in the garden on a sunny morning while reading a book & waiting for my children to wake up.
If you don't like blueberries you can make them with any berry I have made them with sour cherries and almonds (i will post the recipe soon) and there were just as delicious.
The soya yogurt gives these muffins a delicate vanilla custard flavour.
Perfect for a weekend treat.
You do not need a fancy mixer to make these either, a good old wooden spoon will do the job just fine.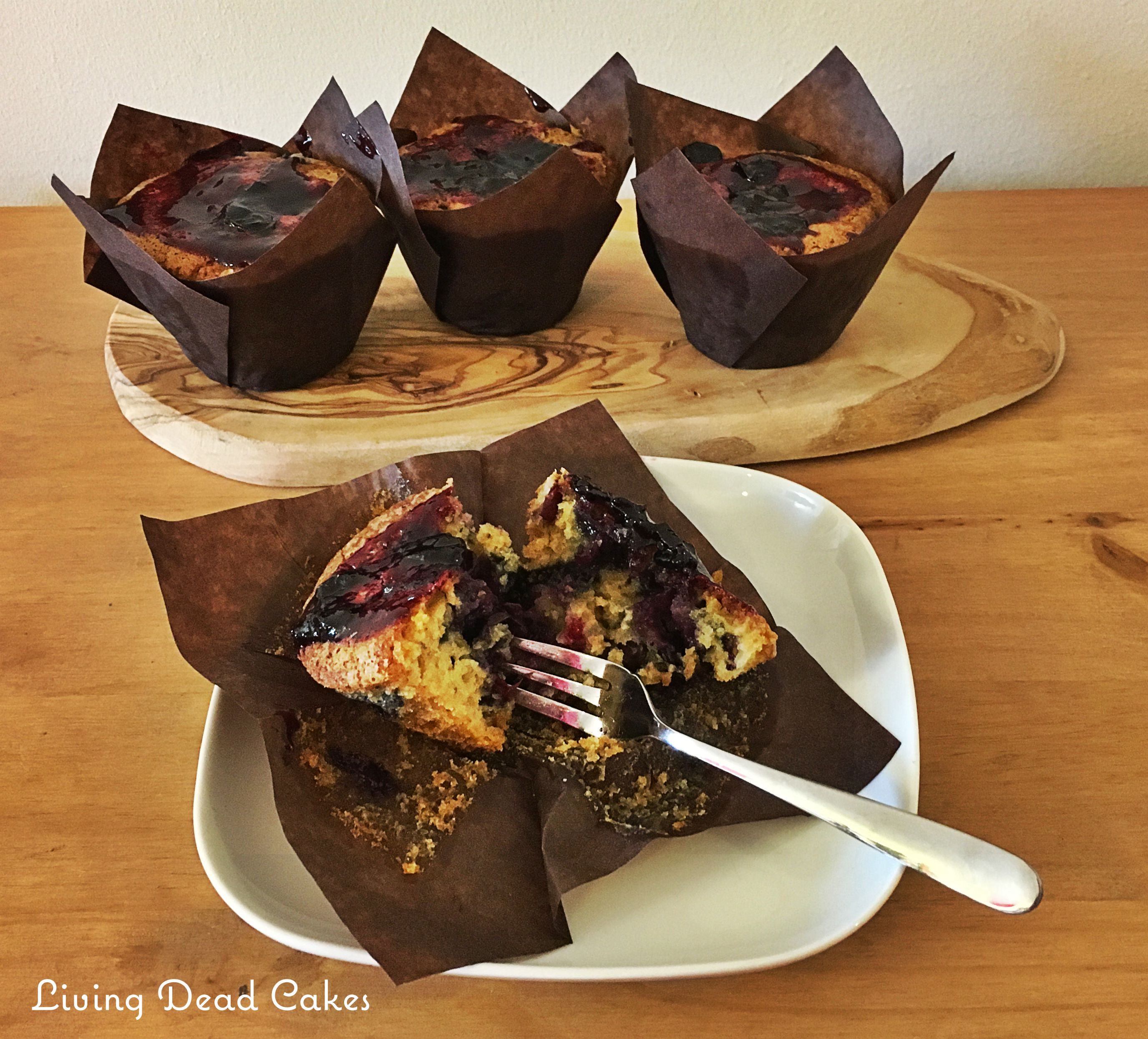 MY TIP: Add two spoonful's of flour to the blueberries and toss them in the flour, this will help stop them sinking to the bottom when they bake.
Ingredients:
Makes 9-12 muffins
The muffins:
110g Dairy free butter
250g Caster sugar
25ml Almond milk
¼ Tsp Pink Himalayan salt
1 125g pot of Alpro Vanilla Soya Dessert 

1 tsp of egg replacer made up with 2 tsp warm water OR 1 Tbsp ground flax seed and 4 Tbsp warm water 

300g Self raising gluten free flour
1 Tsp Baking powder
180g Blueberries
For the Jam:
75g Blueberries
65g Caster sugar
2 Tbsp. Water
1 Tbsp. Lemon juice
Method:
Pre heat your oven to 375°F/190°C or Gas mark 5
For the muffins:
In a large bowl cream together the butter, sugar and almond milk until light and fluffy.
Add the salt, Soya yoghurt, egg replacer or flax seed, flour and baking powder to your butter & sugar mix and mix well until you have a smooth batter.
Fold in the blueberries and share your batter between your muffin cases and bake for 25-30 minutes until golden brown and a tooth pick comes out the centre clean.
Leave too cool while you make the jam topping
For the jam
In a saucepan add your blueberries, lemon juice and water and simmer for a few minutes to break up the berries,
Add the sugar and simmer on a medium heat until the mixture thickens and the blueberries soften & pop, you end up with a lovely sticky jam.
Once you are happy with your jam spoon a tea spoon of the warm jam on top of each muffin and leave them to cool.
You can eat these warm or cold they are lovely either way.