Whats better than Creme eggs & chocolate cookies? Creme egg filled cookies!!!

I've made vegan creme eggs loads of times but this time its with cookies!
(My vegan creme egg recipe can be found HERE)

These cookies have a few elements to them but once you have made them all its so worth it, I make the cookies first so while they are cooling I make the other elements then when they are cool you are ready to assemble them!
This recipe makes approx 8 sandwich cookies.
The Cookies:
Ingredients:
200g Plain gluten free flour
30g Cocoa powder
1 Tsp baking powder
½ Tsp Bicarbonate of soda
½ Tsp salt
115g Dairy free butter
150g Soft brown sugar
50g Caster sugar
1 Tbsp Ground flax seed mixed with 4 Tbsp of warm water
50g Chocolate chips
½ Tsp White wine vinegar
Method:
Pre-heat your oven to 200c/400f/ or Gas mark 6 and line a cookie sheet with non stick parchment paper
In a bowl swift together your flour, cocoa, baking powder, bicarbonate of soda and salt and move to one side.
In another bowl beat together the butter and sugars until light and fluffy, add your flax seed mix, chocolate soya pudding and mix until well combined,
Now add your dry ingredients a little at a time mixing well,
Once you have nearly added all your flour mix add your chocolate chips and white wine vinegar, and mix again
Chill the mix for 20 minutes
Once chilled place spoon full of the cookie dough on a baking sheet and bake for 7-9 minutes
Once baked move to a cooling rack and cool
Now the Creme egg filling,
Ingredients:
85g Liquid Glucose (It will be in the baking section of the supermarket)
30g dairy free butter (I used Pure sunflower)
200g Icing sugar
1 Tsp Water
1 Tsp Vanilla or any other flavouring you like
Vegan food colouring I used Wilton yellow
Method:

The Fondant centre.
First add your butter and liquid glucose to your bowl and beat them together, you can do this with a stand mixer, a hand held mixer or by hand with a spoon.
Once thick and creamy add your icing sugar, 1 teaspoon of water, your flavouring & mix together until all combined.
Take half of the mixture and colour it yellow, keep the rest white
Take a piping bag with any tip you like I used a wilton 1m, add the white to one half of the bag and the yellow to the other half.
The chocolate butter cream,
Ingredients:
150g Vegan butter
280g Icing Sugar
35g Cocoa Powder
1 Tsp Plant milk
Method:
Place the butter in a bowl and beat on high for a few minutes until soft,
Add the cocoa powder and 1 tsp of plant milk and beat together
Add the icing sugar and beat on low until combined and then on high until fluffy.
Place in a piping bag until needed
I also made little vegan chocolate eggs for the top using a mini egg mould, you can make these If you want too.
To assemble :
Now you have made all the elements of these yummy cookies you can now put them together, first match up your cookies into pairs & get your piping bags of butter cream and creme egg fondant ready.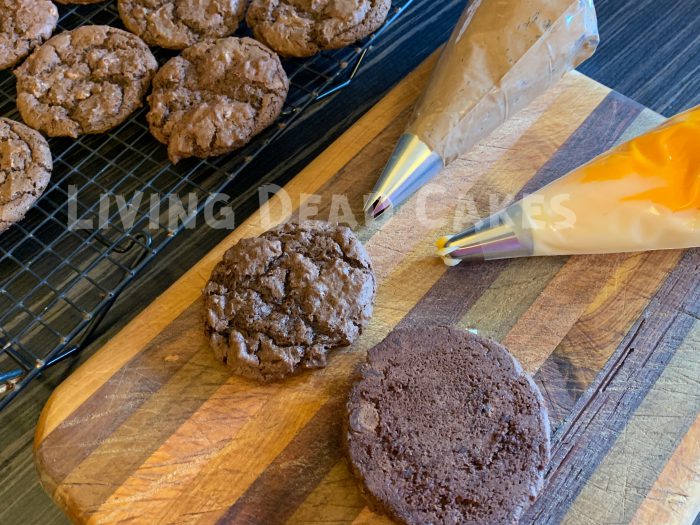 Pipe a circle of butter cream around the outer edge of the base cookie and fill the centre with the creme egg fondant and place the other cookie on the top
Drizzle the top with a little creme egg fondant and you are ready to eat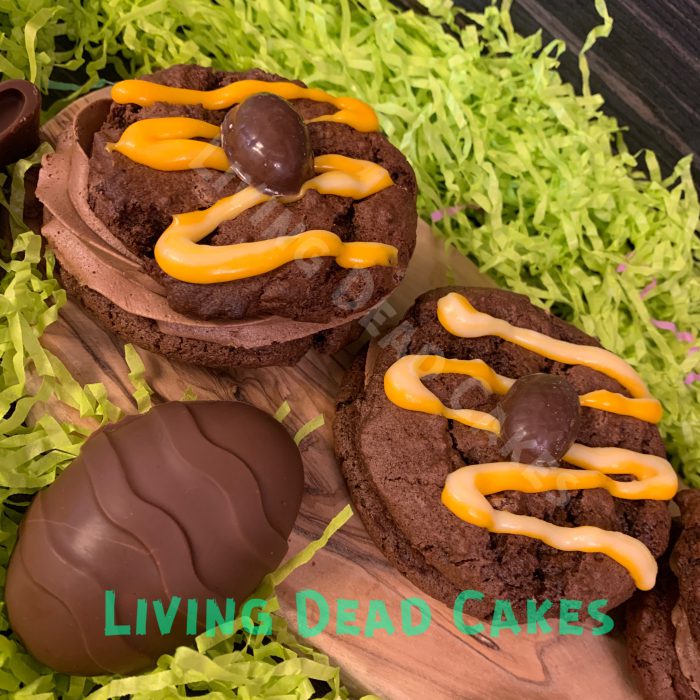 When I made these I made double the creme egg fondant and make some vegan creme eggs too.
Don't forget to like our FACEBOOK page! When we get to 1000 likes we will have another epic give-away!!!