Malt Loaf, That stodgy fruit filled dark brown brick looking heavenly delicsousness.
I've not eaten Malt Loaf in about 11 years, and its one of the many things I miss that are normally full of evil gluten. Here is my own vegan & gluten free version.
If you are not from the UK you will probably have no idea what Malt loaf is, its a common snack food that we normally eat sliced covered in butter with a cup of tea.
Its originally from Scotland but we love it all over the UK.  Its full of dried fruit and malt extract, sadly malt extract isn't gluten free so my version isn't technically a malt loaf as its missing the malt but it does taste just like Soreen. I've used date syrup & tea to try to recreate the malty flavour.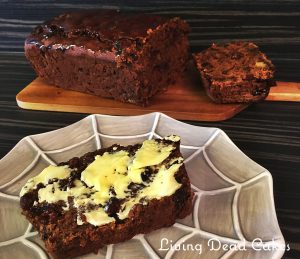 Ingredients:
For the loaf
225g Dried fruit
150g Brown gluten free bread flour
130g Plain gluten free flour
125ml strongly brewed tea
100g Date syrup
100g Dark brown sugar
100g Treacle
1 large apple, peeled & diced
70g Apple sauce*
1 Tsp. Baking powder
1 Tsp Cinnamon (optional)
Pinch salt
*I used a 70g pouch of Ella's kitchen organic apple puree, YES I used baby food! 🙂
I've been using it lots of new recipes keep your eyes out for more using this.
For the glaze
1 Tbsp. Treacle
1 Tbsp. Date syrup
Method: 
Pre-heat your oven to 160c/320f/ or Gas mark 3 & line your 2lb loaf tin
In a jug brew 125ml of black tea, & set to one side to steep while you get everything else ready.
In a large bowl add your flour, diced apple, dried fruit, salt, baking powder, & optional cinnamon & set to one side with your steeping tea.
In a sauce pan add the date syrup, sugar, & treacle and heat until it starts to bubble and all the sugar is melted
Pour your warm mixture over the dry ingredients, and add the whole pouch of  apple sauce and steeped tea, mix until well combined.
Pour into your lined loaf tin and bake for 60-65 minutes.
Once baked remove from the oven and place on a wire rack to cool.
leave to cool for 10 -15 minutes
In a microwave safe bowl add your treacle and date syrup and melt on high for 10 seconds and using a pastry brush paint the top of your loaf with all the melted glaze.
Leave to cool completely before you slice and smother in dairy free butter.
If you make this yummy malt loaf don't forget to tag us on Facebook or Instagram,
I love seeing you all make my recipes.