Custard creams & Bourbons were two biscuits that were a staple in my home growing up, my little brother loved Bourbons! I have finally got around the making some gluten free & vegan so I can add the recipe for you all.
If you are not from the UK you might not know what these biscuits are, a Custard Cream is a custard flavour sandwich biscuit filled with a creamy custard butter cream & a Bourbon is a chocolate sandwich biscuit with a chocolate butter cream centre.

Both are best served with cup of tea as they are great for dunking!
I know most shop bought own brand Bourbons are vegan but they are not gluten free. These biscuits are easy to make and keep for days in an air tight container, if they last that long.
I made mine bat shaped but you can make them any shape you like.
The Recipe:

Preheat your oven to gas mark 4/180°C/160°C Fan/350°F.
175g Self raising gluten free flour
3 tbsp Bird's custard powder*
50g Caster Sugar
50g Vitalite baking block
50g Vegetable shortening (I used Trex)
1 tbsp Plain soya yoghurt mixed with 3 tbsp of cold water
1 tsp vanila extract
*for the Bourbons,
add 1 tbsp cornflour & 2 tbsp Cocoa powder
The cream filling:
1 tbsp Bird's custard powder*
130g icing sugar
50g Vitalite block
1 tbsp boiling water
*for the bourbons
add 1 tbsp cocoa powder

1, In a bowl beat together all the above ingredients until light and fluffy, put to one side until your biscuits are cooled & are ready to be sandwiched.
Method:
I used my kitchen aid to make these but you can make them by hand.
1, In a large bowl add the dry ingredients & mix roughly to combine.
2, Add the Vitalite & Trex and rub into the flour mix using your finger tips so it resembles bread crumbs,
3, Now add the vanilla and the yogurt water mix and combine until your mixture forms a ball,
4, Chill dough in the fridge for 20 minutes
5, Once your dough is chilled roll out with a little extra sprinkle of flour to about 4mm thick & cut out your shapes. Remember these are sandwich biscuits so make sure each biscuit has a friend.
6, Bake on a cookie sheet for 9-10 minutes or until the edges are starting to colour lightly.
7, Allow to cool completely on the baking tray.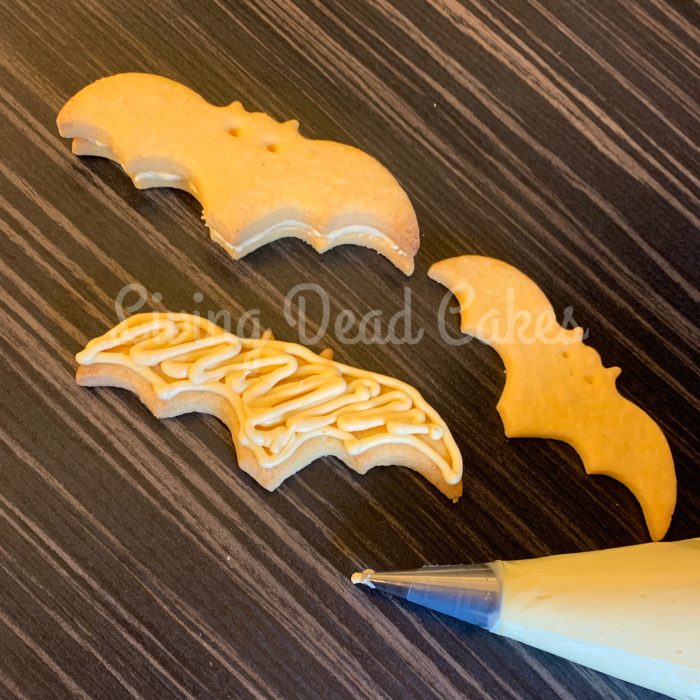 8, Once cool add your cream filling, because mine were bat shaped I used a piping bag to pipe some cream onto the bottom biscuit & then top with another biscuit.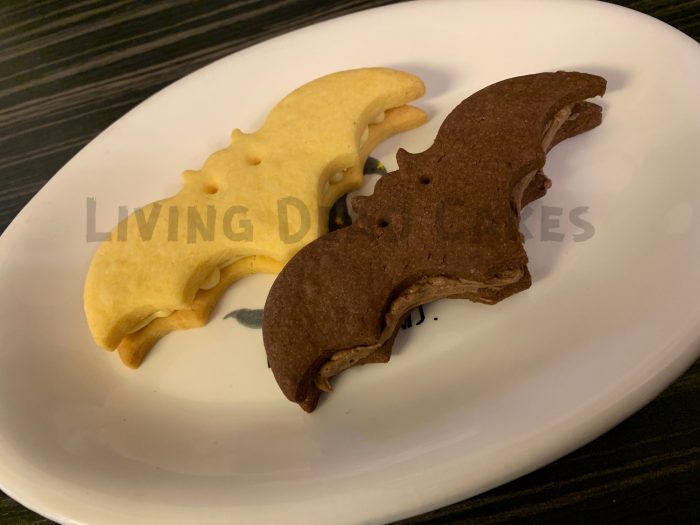 I hope if you make these you like them, Jammy Dodgers are next on my list,
Don't forget to give our facebook page a like!