I start every post with saying how much I love something and with every post I type up its true, I do love Apple crumble, & Christmas cake.
Yep you guessed it yep I love brownies. mmmmm Brownies!
In the living Dead Cakes Kitchen they are the treat I make the most for my family as everyone loves them.
My hazelnut brownies are my all time favourite & that recipe is coming up after Christmas, But for now why not make these little Christmas trees & have some alcoholic hot chocolate.
These make great Christmas Eve treats for you and the kids (Just miss out the alcohol for them)
I found the best & the most amazing Gold Crème Brulee Liqueur In M&S.
Its Gluten Free & Vegan & EPIC, Its only £10 a bottle, this is the first of many recipes using it that is if I don't drink it all between now and making something else with it.

The hot chocolates are super easy, just make using your favourite hot chocolate powder & plant milk and add add a shot of your favourite tipple, I also found some vegan squirty cream is Sainsbury's it was with the Kosher & world foods in the chiller, it was around £2.40 a can.
For the hot chocolate:
I made
Vodka & peppermint
Disaronno & Dark Chocolate
Creme Burlee & Dark Chocolate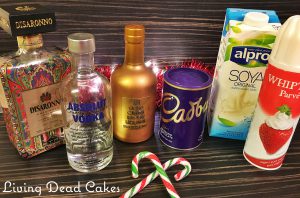 For the vodka and peppermint:
I added 1 Tsp. of peppermint oil and 20ml of vodka to my glass and topped up with hot chocolate, cream and a candy cane, The long candy canes I found in B&M for £1.
For the Creme Burlee: 
I added 25ml of the gold flecked nectar (yes I love it that much) to my glass, topped with hot chocolate & lots of cream and some grated dark chocolate.
For the Disaronno:
I added 20ml to the bottom of my glass topped with hot chocolate & lots of cream and some grated dark chocolate.
You could add anything you like, I was going to make a Coconut one but after drinking those three I was a little tipsy,
The Brownies:
I saw these on pinterest & just had to add my twist to them,
The mini candy canes were from PoundLand and no surprise were £1 for the whole box, This recipe makes 11 brownies so there will be a few left over.
Ingredients:
For the Brownies, 
100g Dark Vegan Chocolate
100g Dairy Free Butter
165g Caster Sugar
1 Tbsp Ground Flax seed mixed with 4 Tbsp. cold water
75g Alpro Chocolate Soya Pudding or 1 medium mashed banana
165g Plain Gluten Free Four
1 Tsp. Baking Powder
For the Frosting,
50g Dairy Free Butter
50g Vegetable shorting
270g Icing Sugar
1 Tsp. Vanilla Extract
Green & Yellow Food Colouring
Sprinkles & Mini Candy Canes for decoration
Method:
Pre-heat your oven to 160c/325f/or Gas mark 3 and line a 28cm x 22cm  size tray non stick parchment paper
In a saucepan on a low heat melt your butter and chocolate, while its melting weigh out your other ingredients,
Once your chocolate butter mixture is all melted add the sugar, flax seed, soya pudding, flour & baking powder and mix until all combined
Pour your brownie mix into the tray and bake for 16-18 minutes
Once baked lift out the parchment paper & leave to cool.
When they are cold trim the edges and cut into triangles

Once cut into triangles, break off the curl of the cane candy and push it into the base to represent the stump and make up your frosting,

Combine all the ingredients for the frosting in a bowl minus the food colouring, add 1 large Tbsp of the buttercream to another bowl and add a little yellow food colouring & mix well, place in a piping bag with a mini star tip. The rest of the buttercream can be dyed green and put in either a piping bag or food bag and cut a little of the end to make a small hole for piping
Pipe a green swirl down the brownie tree and add a little star to the top using the yellow butter cream and add a sprinkle of vegan sprinkles. & they are ready to eat.

These are super tasty & these have been Kid approved buy 3 of my friends children & buy my own children and kids are honest when it comes to food. My best friends little 2 year old Erika, is my favourite little taste tester she is very honest with my cakes & treats, she tries them for me and so far she hasn't not liked anything I've made her.
She loved these little trees. They were also approved by my friends little boy Joseph. <3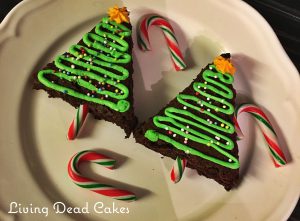 Happy Holidays from Living Dead Cakes xx