I love apple crumble & I love cookies, so why not make an apple crumble and custard epic cookie!
These are light, fluffy & soft cookies, and they just melt in your mouth, they do involve a few elements to make them delicious but all the prep is worth it. Trust me!!.
You don't have to add the custard buttercream if you do not like custard. They are amazing with or without the buttercream.
Perfect to serve with tea or coffee when you have guests over for the holiday season.
If you want to make my Caramel Apple Crumble you will find the recipe here.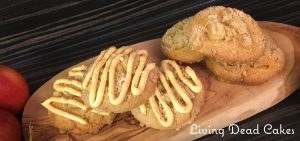 Ingredients:
For the cookie dough
115g Vegan butter
150g Caster Sugar
80g Light Brown Sugar
1x 125g pot of Alpro Vanilla Soya Pudding or apple puree/1 mashed banana
270g Self rasing gluten free flour
1 Tbsp. Cornflour
1 Tsp. Baking powder
1 Tsp. Vanilla Extract
For the apple filling,
2 large Apples, peeled, cored & diced small
1 Tbsp. Soft Brown Sugar
1 Tsp. Lemon Juice
4 Tbsp. Water
For the crumble,
60g Gluten Free Flour
30g Soft Brown Sugar
30g Dairy Free Butter
For the custard buttercream,
70g Dairy Free Butter
110g Icing Sugar
1 Tbsp. Soya Milk
Method:
Pre-heat your oven to 180c/350f/or Gas mark 4 and line a cookie sheet with non stick parchment paper
Makes 14-16 cookies
In a saucepan add all the ingredients for the apple filling and cook on medium heat for 5 minutes or until the apples are soft, transfer the cooked apple mix to a bowl
In another bowl add all your crumble topping ingredients and rub the butter into the flour & sugar until it resembles fine sand, keep to one side.
In a bowl cream together the butter & sugars for the cookie dough until light and fluffy,
Add the soya pudding, flour, baking powder, vanilla, & cornflour & mix until well combined, cover bowl with cling film and allow to chill in the fridge for 2 hours,
Once chilled scoop balls of cookie dough onto a baking sheet and top with a spoon full of the cooked apple mix & a spoon full of the crumble mix, they will spread a little so leave 2″ between each cookie.
Bake for 13-16 minutes or until golden around the edges
Once baked move to a wire rack and allow to completely cool.
In another bowl cream together all the ingredients for the custard butter cream & once combined you can add a swirl to your cool baked cookies, sprinkle a little left over crumble on the top and they are ready to enjoy.
They only keep for a few days so enjoy them while they are fresh.