Its well documented that my two dogs are spoilt and treated like they are one of my children, so when I bake cookies for everyone else, Prue & Phoebe need some too.
These make cute little Christmas gifts for our fur friends too.
I have said before that my dogs are not vegan but they do eat some vegan treats and these cookie balls are vegan and can be gluten free if you use gluten free oats, they contain no sugar as I only use sugar free peanut butter when making treats for them.
The fresh mint in these can be increased if you furry friend has doggy breath.
In this recipe I use Coconut oil, Coconut oil is great for dogs, it aids digestion is fabulous for their coats and can even help prevent infection & clear up eczema, BUT like everything in life too much of a good thing can be bad for you, so if your dog has never had coconut oil before give them these treats little and often no matter how much they bug you for more, they will keep in an air tight container & can even be frozen.
Ingredients:
200g Oats (if your dog is gluten free use GF Oats)
135g Coconut oil (solid)
100g Peanut Butter
1 large Carrot, grated
10g Fresh mint, finely chopped
Method:
Pre-heat your oven to 220c/425f/or Gas mark 7 and line a cookie sheet with non stick parchment paper
Makes 14-16 cookie balls
In a bowl add your oats, carrot, & mint.
In a saucepan over a medium low heat melt your peanut butter and coconut oil,
Once melted pour over your oats, carrot and mint and mix well,
Roll your oat mixture into balls and place on your cookie sheet

Bake for 20 minutes or until the edges are golden brown and leave to cool
Once cooled your dogs can enjoy them, either transfer to a air tight container or freeze.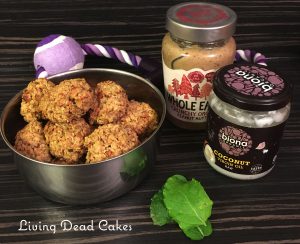 UPDATE: My dogs loved these, they had half a one each morning until they were gone, and both of their coats looked amazing, Phoebe especially her coat was very shinny and fluffy, I can only put it down to the coconut oil.