This recipe is the first one on Living Dead Cakes that's not going to be vegan, but don't worry it is still gluten free! Everything is always going to be gluten free.
There will be vegan recipes still but it will be a mix.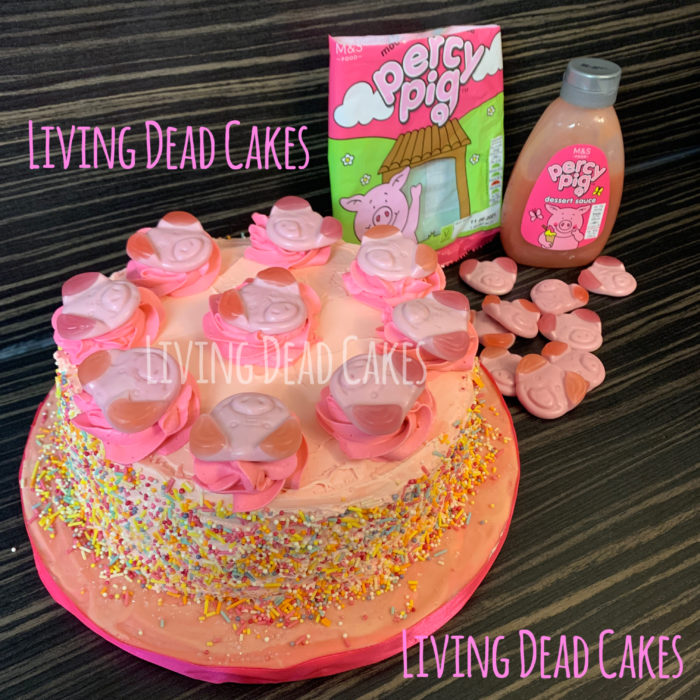 When I saw the M&S Percy Pig cake, I crossed my fingers and wished it to be GF but sadly my wishes did not come true, so after I had a tantrum a 2 year old would be proud of I decided to make my own, so here is my recipe, Super easy and super quick.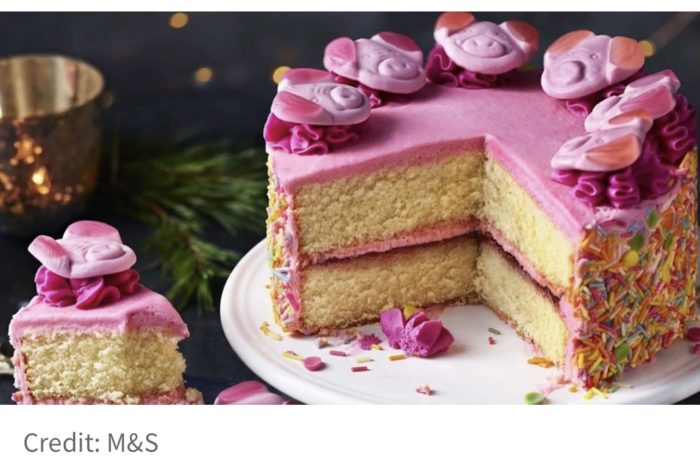 Percy pig cake.
Pre Heat oven to 190C/Gas 5.
Grease two 20cm sandwich tins and line with non-stick baking paper.
Ingredients:

For the cake:
200g Stork, (or any baking butter you like)
200g Caster Sugar
200g Self-Raising GF flour
4 Eggs
1 Tsp baking powder

For the Frosting & filling:
250g Butter
550g Icing Sugar
70g Percy pig dessert sauce
Pink food colouring (I use Gell or paste from the supermarket NOT liquid)
1/2 jar Strawberry jam
To decorate:
1 bag of your favourite Percy pigs
Lots of sprinkles (make sure they are GF)

Method:
Cream the butter and sugar together for a few minutes until light and fluffy, add two eggs and half the flour, fold in, add the last two eggs, flour and baking powder fold until combined, dived between the two cake tins and bake for 20 minutes or until golden and cooked through. remove from tins and cool.
While your cake are cooling make the frosting, beat together the butter and icing sugar until light and very pale in colour, this takes about 5/8 minutes if you have a stand mixed I would use it, once beaten add your Percy pig syrup and beat again, add a few drops of your pink food colouring to create a pale pink.

In a bowl add about 150g of your buttercream and add more pink food colouring to make a darker shade of pink.

Once your cakes are cold add the strawberry jam to one layer and top with you Percy pig flavour butter cream and the other cake layer on top and cover with a thin coat of butter cream (a crumb coat) and chill in the fridge for 10 minutes.
When your crumb coat is chilled I like to move my cake to a serving plate or cake board and cover with a thicker layer of butter cream, chill for 5 minutes.
Add a little extra butter cream for glue and around the sides add your sprinkles, this bit is a little messy. cover the sides with sprinkles.

Pipe 8 little swirls of the darker pink cream around the edge of your cake and one in the middle, top with your Percy pig sweets.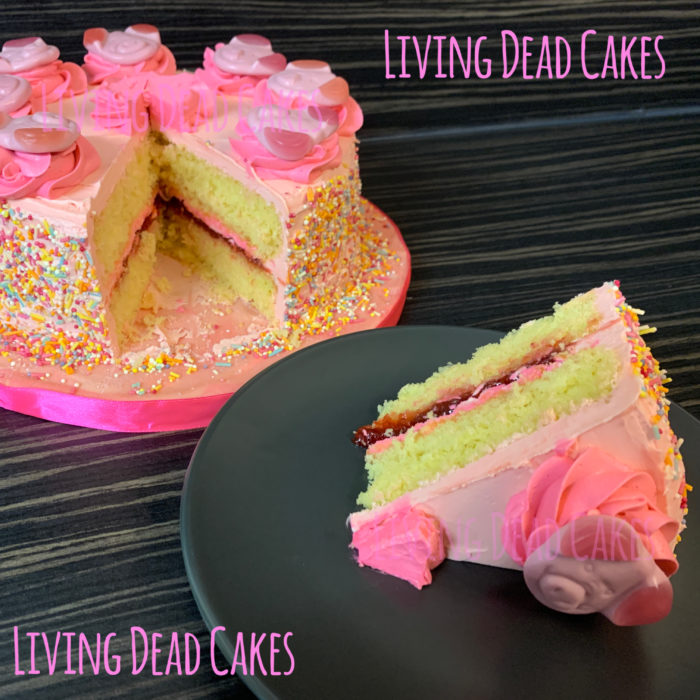 I had a little butter cream left over so I made some cupcakes to match, sadly I have no photos as my children ate them too quickly, but this would be great if your making this as a birthday cake.