This delicious curry is perfect anytime of the year but when other people are making turkey curry with left overs for Boxing Day this is perfect meal for us vegans on Boxing Day.
I have used a pre mixed Tikka curry powder in this recipe but you can use your favourite combination of spices if you prefer, Curry isn't something I make too often so this blend of tikka spices are perfect for me.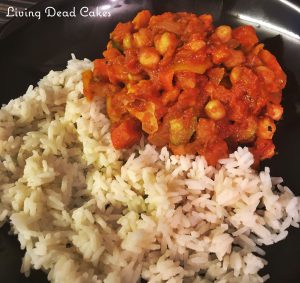 Ingredients:
1 large Onion, roughly chopped
2 Tbsp. Vegetable oil
2 Tbsp. Tikka Curry powder
1 400g Can Chopped Tomatoes
1 large Sweet Potato, peeled & chopped
1 Courgette, chopped
1 Large Pepper, deseeded & chopped
1 Large Carrot, peeled & chopped
500ml vegetable stock
1 400g can chickpeas, drained
Salt & Pepper
360g Long grain rice, to serve  (90g per person)
Method:
This recipe serves 4.
In a large saucepan heat your oil & add your chopped onions, lightly cook for a few minutes until they are just starting to colour,
Add your curry powder and fry for a few minutes,
Add your chopped tomatoes, vegetable stock, sweet potato, courgette, carrots, & peppers, bring to the boil and simmer of medium heat for 20/25 minutes until your potatoes are just starting to soften,
Add your chickpeas and simmer for 10 minutes while you boil your rice.

Once your rice is cooked, taste your curry and adjust the seasoning to taste and serve.
Happy Holidays from Living Dead Cakes and we will see you all in the New Year, with lots of new recipes & a fabulous Give Away.
Give our Facebook page a like. Thank you everyone for their love & support this year. <3
Love Ophelia-Wednesday xx