It's no secret that I'm partial to a cocktail or three, since being gluten free my favourite tipple had to change. No more real ale for me. I have tried a few gluten free ales but they are now sadly out of reach as they are not vegan.
If you are not vegan and didn't know some beer and other alcohols are filtered at the end of production to give the product a clear finish.  Not all cask ales are filtered but some are filtered through Isinglass (the swim bladders of fish). This same production method can be used on other alcoholic drinks and even some non-alcoholic drinks such as Diet Pepsi and Lilt are clarified using gelatine.
Drinks filtered with Isinglass are not even considered vegetarian.
Some beers and wine can also be sweetened with honey and in some case may even contain lactose, so not only do we have to contend with hidden animal products in food they also put them in drinks too!.
A great website for us vegans is Barnivore. Type in the brand of your alcoholic drink and they will tell you if its vegan. Luckily for me a few of my favourite drinks are vegan.
Barnivore also have a mobile app too, so perfect for the weekly shop or when you are out in a bar.
Most Vodkas Are Vegan & gluten free, for example Absolut & Blavod.
My favourite Disarano is vegan and gluten free but sadly my other go-to liquor Chambord isn't vegan as it contains honey but it is still gluten free.
My favourite cocktail when out is any champagne based cocktail as 99% of champagne is vegan & gluten free,  its always worth a check on the app just make sure.
Supermarkets such as Sainsbury's, M&S and the Co-op are great for labelling their vegan products and they don't stop when it comes to drinks too. So if you are looking for a vegan wine check out the selection they have.
The main classic cocktails you find on a drinks menu such as a Woo Woo, Sex on the beach & a Cosmopolitan are all vegan & gluten free.
Now down to the fun stuff and sadly I will have to make each of these and drink them of course.
These are a few of my favourite cocktails and a great way to show non-vegan friends that you can drink and still have compassion.
Japanese Slipper 
Serves 1 
Ice
1.5 Measures vodka
1.5 measures Midori
1 Measure lime juice
Lime slice to decorate
Put the cracked ice into a cocktail shaker and pour in the vodka, Midori, and lime juice
Shake vigorously until well frosted
Strain into a chilled glass and dress with the lime slice
Melon Ball 
Serves 1 
2 Measures vodka
2 Measures Midori
4 Measures pineapple juice
Cracked ice cubes
Pour vodka, Midori, & pineapple juice over cracked ice and stir well to mix
Half fill a high-ball glass with ice and strain the cocktail over the ice
Serve
Sunrise Sling (non alcoholic)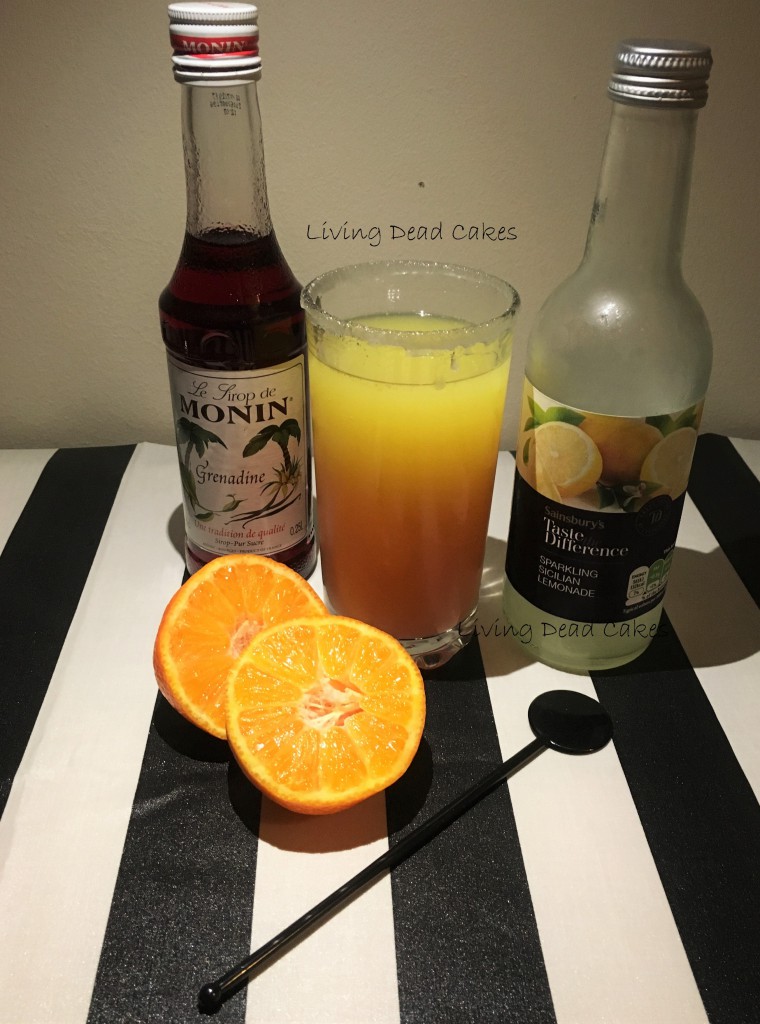 Serves 1 
 ½ glass of cloudy lemonade
½ glass of orange juice
½ measure of grenadine
Pour the lemonade & orange juice into a high-ball glass
Slowly pour in the measure of grenadine to great the sunrise effect
Serve
For an alcoholic version add  2 measures of Blavod.
Dead Charmed 
This cocktail is one of my own.
Serves 1 
Ice
2 Measures pear vodka
½ Measure Limoncello
½ Measure coconut rum
Top with champagne
In a cocktail shaker add the ice, vodka, limoncello and coconut rum and shake vigorously until well frosted.
Pour cocktail into a glass and top with chilled champagne
Serve
Happy New Year from Living Dead Cakes, Drink responsibly and have fun.