This is my take on a conventional vegan nut/lentil roast.
All the vegan nut roasts I have found in the main supermarkets have been full of evil gluten so the only option for me is to make one. I did want to try a pre-made one as the festive season is a busy one and I wanted one less thing to have to make, But I'm glad I spent the day playing around in the kitchen to make my one as its worth all the effort.
I made mine mini as it will only be me on Yule eating it and only myself and my mum over Christmas eating it, so minis ones for me are perfect but you can make one big one if you like, You will need a 1lb loaf tin lined with parchment paper.
Ingredients:
For the loaf
2 Tbsp. Olive oil
1 large leek, Chopped
1 large Onion, Chopped
2 Carrots, chopped
2 Sweet red peppers, chopped
3 Gloves of garlic (I used smoked)
1 can of green lentils
50g Gluten free oats
300g meat free mince (any that you like or) 150g dried Soya chunks re-hydrated
3 Tbsp. chopped tomatoes (from the 2 cans you need for the sauce)
2 Tbsp. Nutritional yeast
2 Tbsp. Ground flaxseed
2 Tbsp. whole grain mustard
2 Tsp Dried sage
2 Tsp Dried parsley
2 Tsp Dried Thyme
Salt and Pepper
For the Sauce
2 cans of chopped tomatoes
2 Tbsp. Tomato puree
1 Chopped red chilli
1 Clove of crushed garlic
Seasoning to taste
Method:
Pre heat your oven to 375°F/190°C or Gas mark 5
In a large sauce pan sauté on a medium heat with the oil the Leeks, Onions, carrots, peppers, and garlic until soft & cooked this should take about 8-10 minutes.
Once the vegetables are soft add the meat free mince/soya chunks & the can of drained lentils & the 3 Tbsp. of chopped tomatoes and cook for a 3-5 minutes.
Now add the contents of the sauce pan to a food processor with the oats, Nutritional yeast, ground flaxseed, whole grain mustard & the herbs and seasoning and blitz in the food processor until roughly chopped and blended, be careful not to over blend you do not want a paste, you just want a rough blend on the mix, you still want the mix to have some texture.
Once you are happy with your consistency put the mix into your greased loaf tin.
TIP: If you over blend your mix do not worry add some more oats & cooked chopped vegetables to your mix to re add some texture.
This sauce is so easy and you can use it on pasta too.
The sauce
In a saucepan add the chopped chilli & garlic and fry lightly for a few minutes.
Add the chopped tomatoes and simmer for 5/8 minutes the sauce will become thick and the tomatoes will break down and become soft, add the tomato paste and season to taste.
If your sauce is too thick you can add a little water or red wine to get the consistency you like.
You can add a splash of Worcestershire sauce if you like too. (just make sure it's a gluten free one if your making this gluten free)
5.   Spread a little sauce on the top of your loaf and bake in the oven for 45/50 minutes, until its brown on the edges and has slightly pulled away from the edge of the tin, if it colours to quickly you can cover with a little bit of foil. (my mini ones took 30 minutes to be cooked)
6.   Turn out of the tin onto a serving plate and cut into slices, re heat your sauce and serve.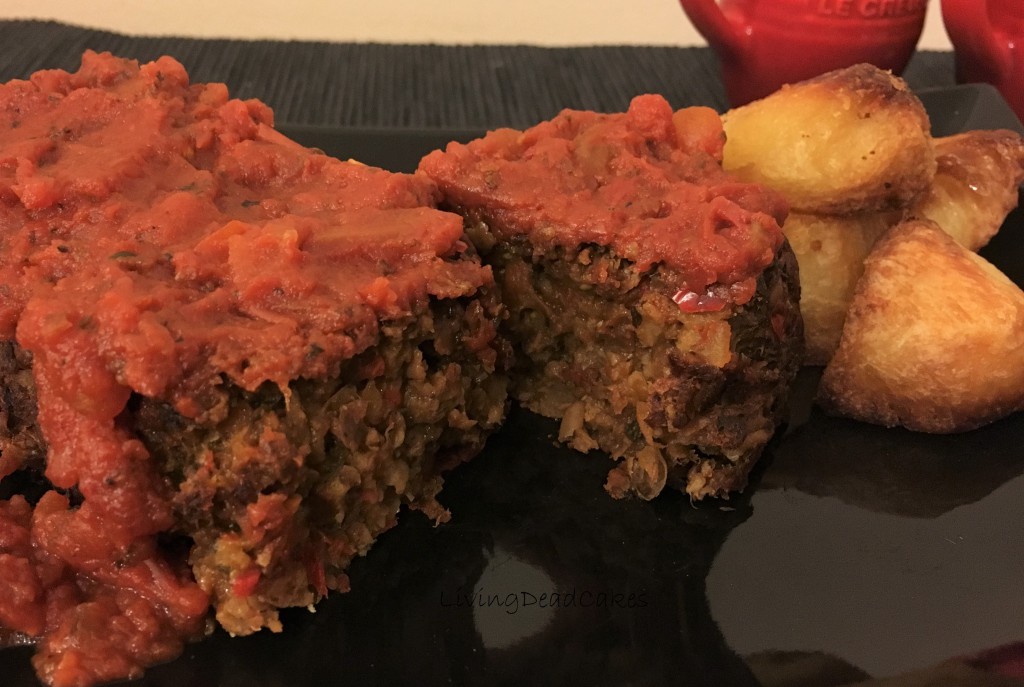 This is lovely with roast potatoes and lots of vegetables on the side.
Perfect for a vegan gluten free Christmas or just for a roast on a Sunday.
✅? key
?=Vegan
✅=Gluten Free