Follow your heart VeganEgg has finally reached UK shores.  This lusted after egg replacer has been making waves within the vegan community since it was launched in the United States.
I was so excited to see it was coming to the UK and when I found some in Whole Foods I snapped it up. I found mine in the baking section with the other egg replacers, and its was £6.99 a box.
We have been waiting with bated breath for it to arrive and now it has!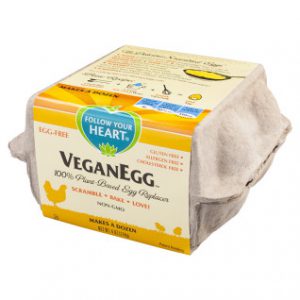 I made these in mini form for our little fairy party and they were so good so I made a big one for this review. Perfect for a family dinner.
My first impressions of the VeganEgg were good the packing is cute and looks like a little egg box. With a bag of the yellow VeganEgg powder inside. It even smells like real eggs!
VeganEgg is also gluten free, soy free, non-GMO and Kosher. Each box contains the equivalent of 12 normal eggs.
I love Follow Your Heart products but sadly in the UK I can't find the whole range, I love their Veganaise: better than mayo. I really would love to try their cheeses but have yet to find any in the UK.
I will have lots more recipes coming using VeganEgg but for now here is my delicious sweet potato & roasted pepper quiche.
Ingredients:
For the pastry: 
200g Gluten free plain flour
70g Dairy free butter
35g Vegetable shortening
40ml Cold water
Pinch of salt
In a bowl add the flour & salt,  rub in the butter and shortening,
Add the water a little at time until you form a soft ball of pastry.
Wrap your pastry in cling film and chill in fridge for 30 minutes before use.
For the quiche:
1 Medium sweet Potato
2 Peppers
80g Grated Vegan cheese
20g Vegan Egg
150ml Plant milk
70ml cold water
Salt & pepper
Oil
To serve:
1 Medium potato per person & a small mixed salad & dressing
Method:
Pre-heat your oven to 200c/400f/ or Gas mark 6
Roll out your pastry and line your dish, I used a 20cm x 3.5cm fluted tin, Bake blind for 10-12 minutes, once baked leave to one side.
While your pastry case is baking, peel and chop your sweet potato, boil until soft. Once soft mash and season with salt & pepper put this to one side.
Cut your peppers in half & de seed place on a baking tray with a drizzle of oil and roast in the oven for 25/30 minutes until some of the skin is black and the peppers are soft.
Once cooked place in a bowl and cover with cling film and leave to the cool, Once cool peel of the black skin and slice into strips.
Add your sweet potato mash to the base of your blind baked pastry case and top with some slices of the roasted peppers.  Save some peppers for the top.
6. Now make up your vegan egg mixture I used my nutri bullet to mix everything and I have found this makes a lovely fluffy filling.  In your nutruibullet mug add 70g of your grated vegan cheese, and 20g of Vegan Egg, 150ml of ice cold plant milk & the ice cold water blend until smooth pour over the sweet potato & peppers.  Top with the rest of the cheese and the left over pepper slices and season with salt & pepper bake in the oven for 35 minutes.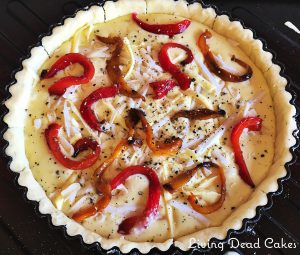 To serve:
To serve with my quiche, I made my Salt & Pepper wedges and a little side salad.
To make my wedges I pricked a potato with a fork and cooked in the microwave for 6 minutes. Once cooked I cut into wedges and placed on an oiled tray and sprinkled with pink himalayan salt & fresh ground black pepper & baked for 15 minutes at 200c until golden brown
For my salad dressing:
I mixed 6 Tbsp. of organic olive oil with 2 Tbsp. of white wine vinegar & seasoned with a squeeze of lemon juice, salt and pepper and a little mustard.
Final impressions:
Out of all the egg replacers I have tried, VeganEgg makes the best quiche.  Once baked its light fluffy and so tasty. I only used 20g to make this whole quiche.
My only tip is you must use ice cold water/plant milk & mix well
VeganEgg was worth the wait! & in my eyes lives up to all the hype! I will be buying it again and I can't wait to try it in the other recipes I have in mind.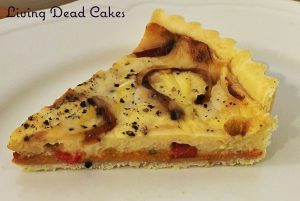 Follow your heart website: www.followyourheart.com
Check out our YouTube channel and video for this recipe