Over the last few weeks I have noticed some of the main supermarkets have started to expand their "Free From" ranges, Tesco, Asda, & Morrisons have all added more lines to their ranges with Tesco and Asda re packing them too.  Marks & Spencers have also added new items to their free from range but i haven't seen any new items that are both vegan and gluten free, if you are just gluten free M&S have bought out a vanilla cheese cake!   I love cheesecake, but i haven't eaten it since being diagnosed so i will be adding my vegan/gluten free recipe on here soon.
I picked up 2 items each from Adsa and Tesco to test them and see what they are like.
They all are gluten free, dairy free but the instructions on the packets do call for butter & eggs, so I'm going to try and veganise them and see how they turn out.
These things can really help when you are short of time and want to make something quickly, Or you don't have a cupboard like mine full of every baking item you can think of but really want to make some brownies or pizza.  I never use ready mixes like these in my normal baking, I will make something from scratch but I'm excited to try these and see if they are any good & if they save time & to see if they taste OK too.
They will all be given marks out of 5 in the below categories
1. Ease to make
2. The taste
3. Value for money
Item One: Tesco Free From garlic bread.

The Price £1.50
Garlic bread like this has never been seen in the free from section before so I'm so excited to try this one, I couldn't find it on line on the tesco website when i wrote this so I'm sure it will be in all Tesco shops soon. 
Ease to make: 5/5
Take out the packet and bake in the oven for 12 minutes, can't be any easier.
The taste: 4/5
AMAZING! So good. The baguette was nice and crispy on the outside fluffy on the inside, The only reason it didn't get 5/5 was it wasn't very garlicky. They could have added a lot more garlic. 
Value for money: 3/5
I think its a little pricey as its not very big and not very garlicky, but it is tasty so i might buy it again but add some of my own garlic butter.
? Total Score 12/15
---
Item Two: Asda Free from chocolate brownie mix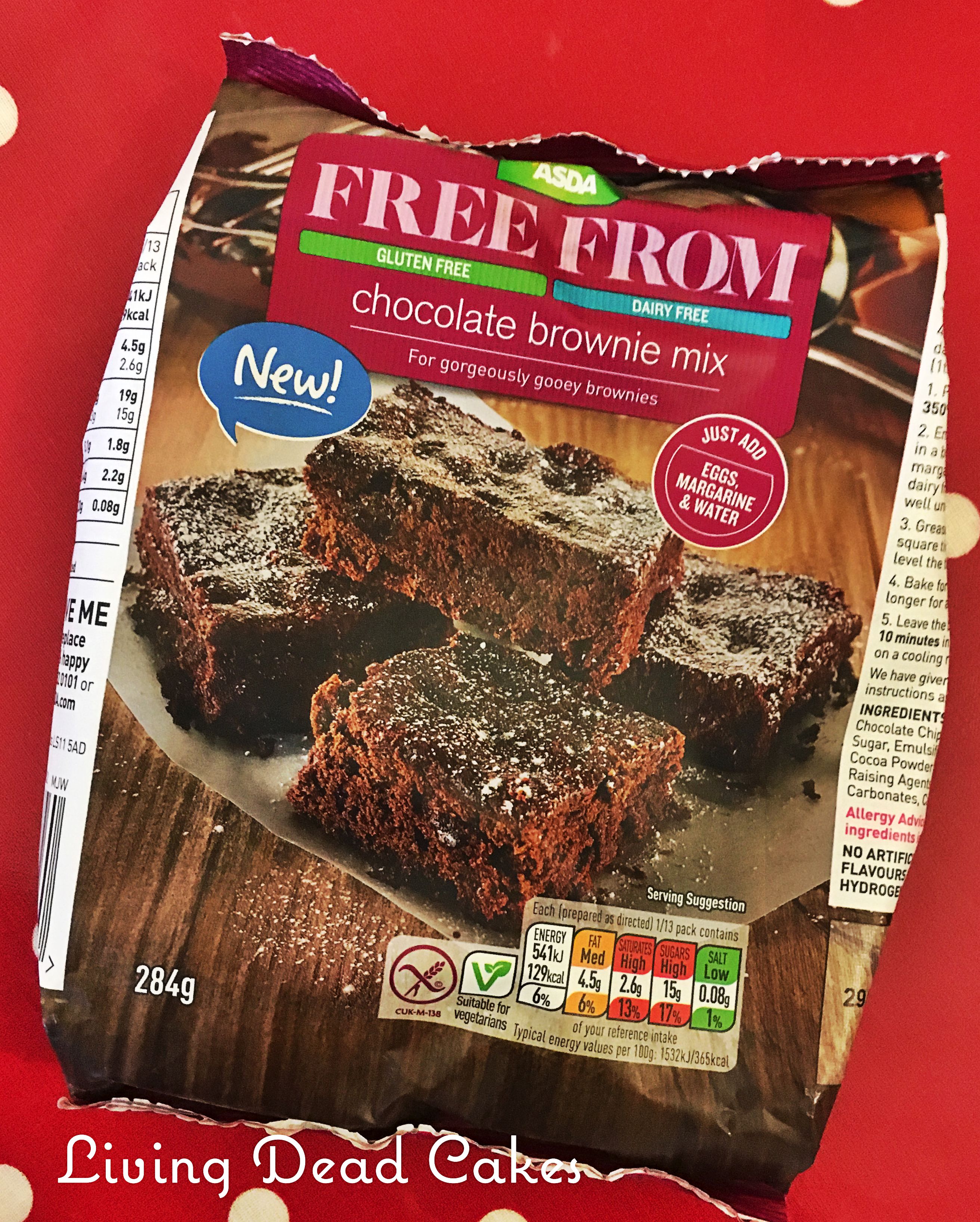 Price £1.60
All of the supermarkets have started to bring out these type of ready mixes.
Asda also had a sponge mixes in their new range.
The Test: 5/5
The recipe on the packet called for eggs and margarine, so I used Pure sunflower and 2 flax eggs. It also required 1 Tbsp. of water but once I added that you could have made cookies with the mix so I added another 2 Tbsp. of water to make a more brownie batter like consistency.
I baked mine for 13 minutes, I used my normal brownie tin, once baked they are quite thin not as high as my normal brownies I think to achieve that with this mix you would need 2 or more packets.
They were very easy to make, just a case of mix it all together and bake, no stand mixer needed just a spoon and a bowl.
The Taste: 4/5
We love brownies in the Living Dead Cakes house its one thing I probably make the most, so this mix had a lot to live up too. They were very rich and and packed full of chocolate. My children both liked them and gave them 4/5 as they said mine are better.
I would like to try these using peanut butter instead of the flax eggs.
Value for money:  4/5
£1.60 is quite good value for the mix and I had dairy free butter and flax seed in my fridge, I got about 9 squares of brownie out of this batch.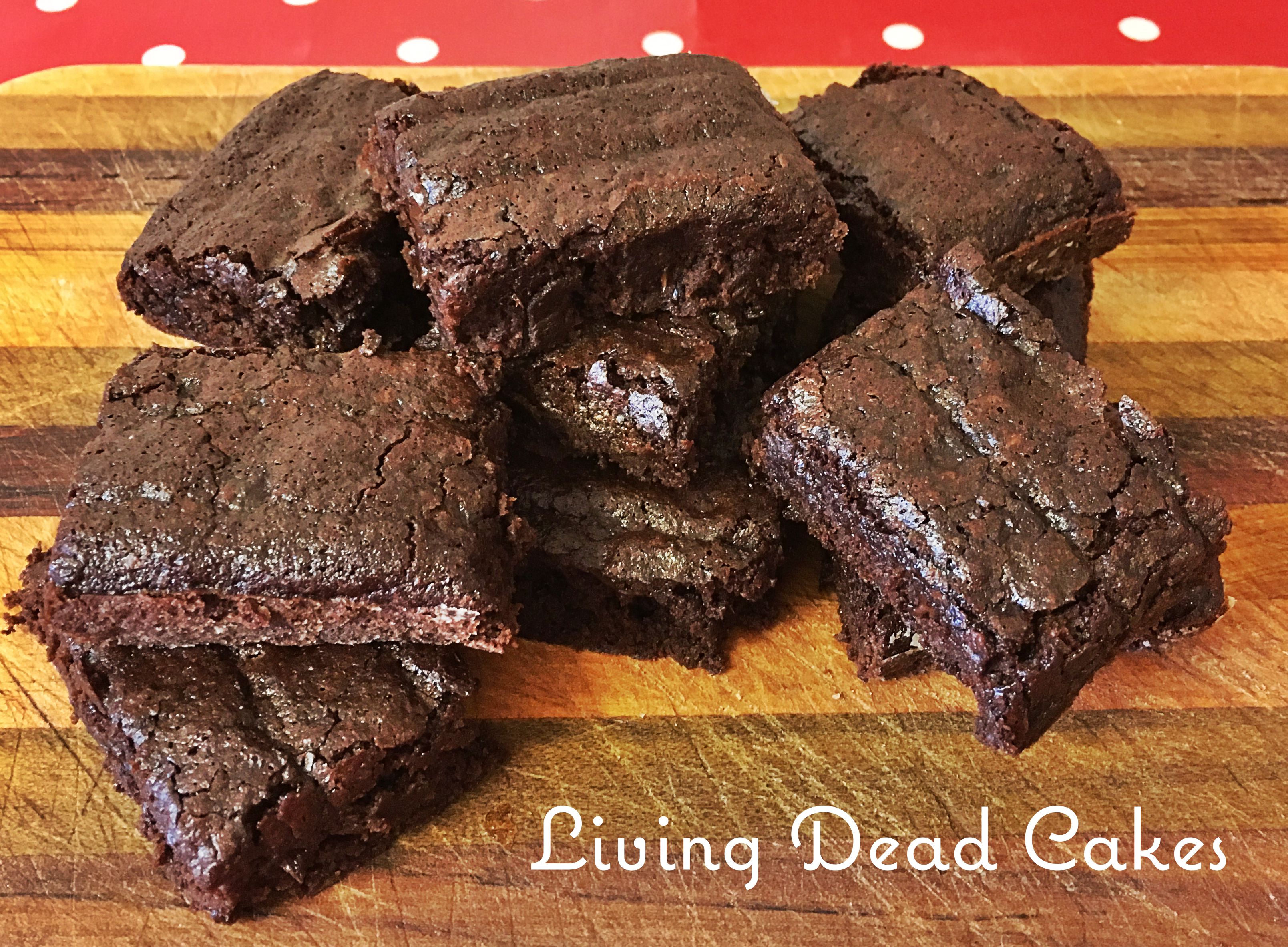 ?Total Score 13/15
---
Item Three: Tesco Free from dough mix
Price £1.20
This is my first time trying a dough mix, so I quite excited about this one.  When I make pizza I normally use a Schar brand pizza base and add my toppings & vegan cheese.
The Test: 5/5
Making the dough was easy, I added 1 Tbsp. of organic olive oil & 100ml warm water & mixed together for a 2 minutes using my stand mixer and placed in a bowl to prove for 30 minutes.  Once proved I divided the dough into 4 and made 4 mini pizzas. I added a little tomato puree some grated Vio life Pizza cheese and some chopped red onion & red pepper. I baked them for 20 minutes at 200.
The Taste: 4/5
They turned out very nice, the dough was fluffy & light, and if i didn't know any better i would have thought they were normal non GF pizza dough.
Value for money: 5/5
I think £1.20 for the dough for the base is quite good, I normally pay £3.00 for two Schar pizza bases & these were more fluffy and more like traditional deep pan pizza. I'm going to try and make a calzone next time using this dough. 
?Total Score 14/15
---
Item Four: Asda Pastry mix

Price £1.50
Ease to make: 4/5
On the packet of this pasty mix it said to use 1 egg so I used 1 quantity of egg replacer made up as it said on the packet, Plus 90g dairy free butter & 3 Tbsp. cold water, I used my food processor to crumble in the Pure Sunflower & then i added the egg replacer & water. I left it to rest in the fridge for 1 hour before I rolled it out, cut out circles to make little jam tarts using my Fairy Jam.
The taste: 5/5
This pastry was very nice, light and flakey and perfect for the jam tarts I made.
Value for money: 4/5
I made 24 jam tarts using this mix so its not too bad value but I think if I made pastry from scratch it might be a little cheaper.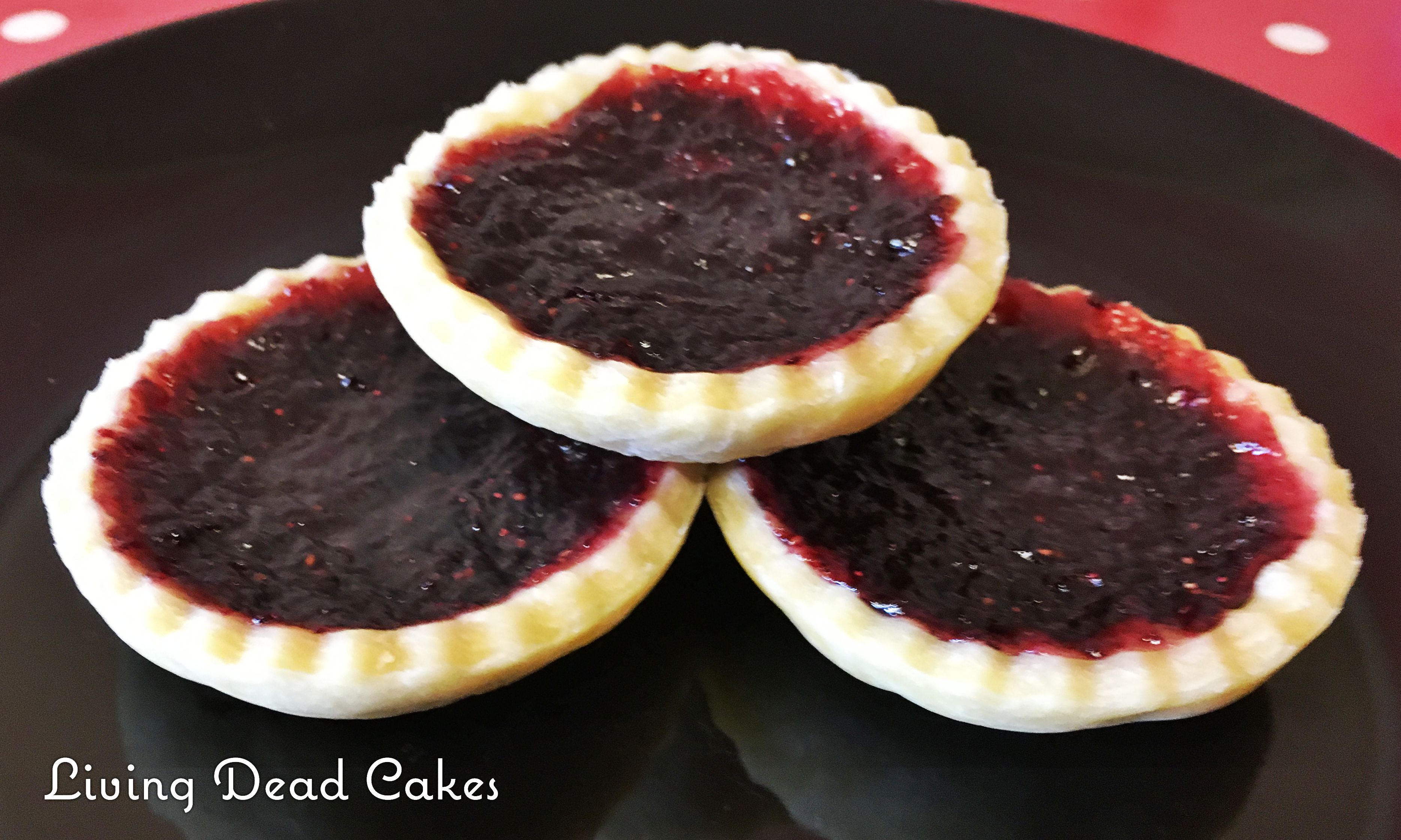 ?Total Score 13/15
---
Over all I'm quite impressed with the baking mixes from both Asda & Tesco.  They are all good and end up with a satisfactory result even with my vegan substitutes.  I might even buy them again when I'm pressed for time or if i want a deeper pan pizza.
The garlic bread from Tesco was very nice too, but lacking in garlic flavour i think i will buy it again to keep in the freezer but I prefer my home made garlic bread with my smoked garlic butter.
Lets hope M&S add some vegan items to their free from range too all the new gluten free items looked really nice, as you would expect from M&S.