We have had the cronut (a croissant and a doughnut hybrid) they have been done to death and have thankfully passed on patisserie heaven.
So I bring you the Doughnie, a brownie and doughnut hybrid, a soft fluffy doughnut crossed with the depth and decadence of a chocolate brownie.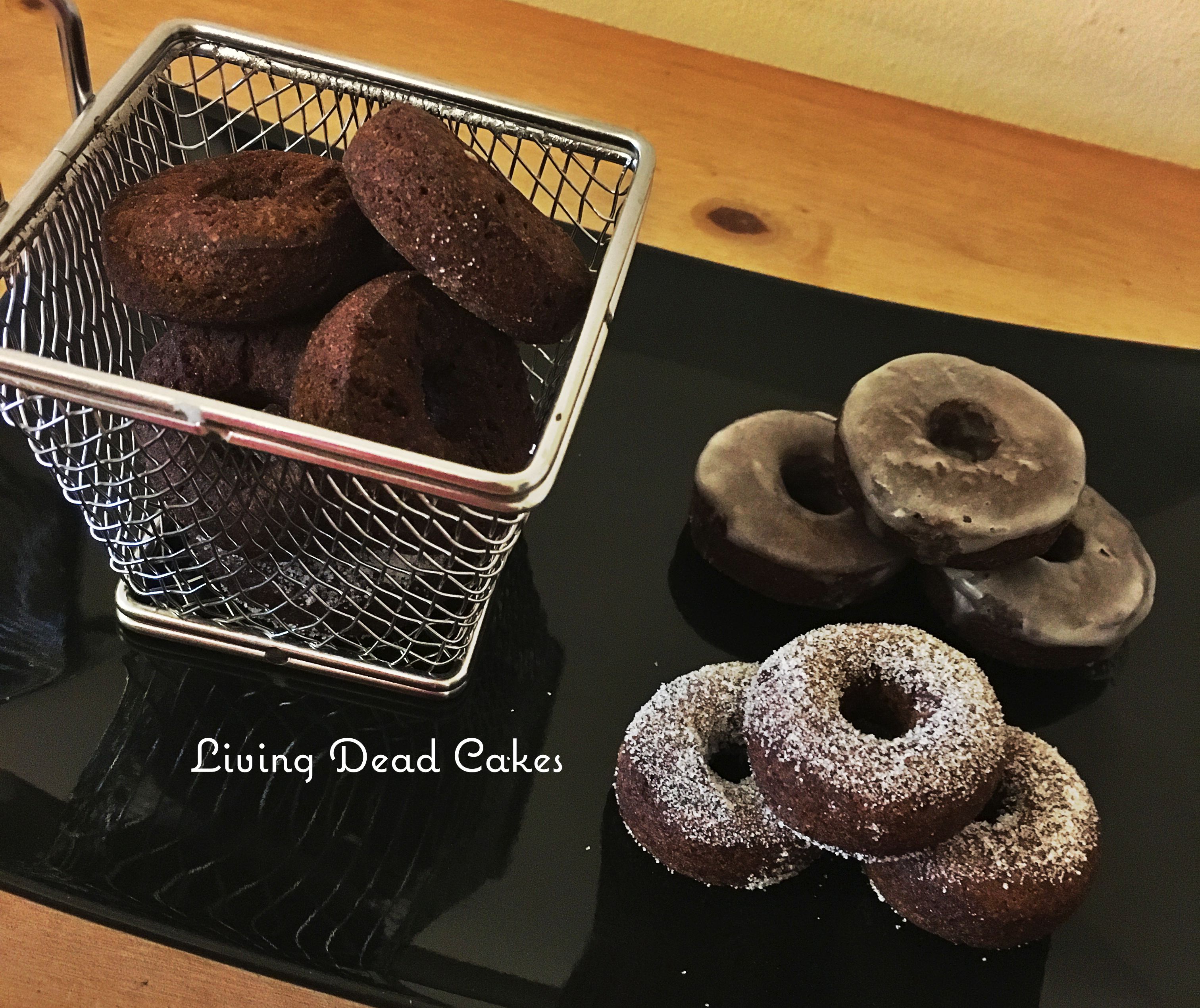 A Living Dead Cakes exclusive creation.
I love brownies & I love doughnuts and since being gluten free I have missed doughnuts, sadly you can't walk into Tesco and buy gluten free doughnuts.  Even though some doughnuts can be vegan (I think some co-op ones are) they are sadly not gluten free.
I wanted to make something that combined the two.
I have another vegan/gluten free doughnut recipe that's more traditional I will upload that one soon.
Ingredients:
For the dough:
300g Gluten Free self raising flour
35g Cocoa powder
2 Tsp baking powder
40g Dairy free butter, melted
120g sugar
1 flax egg (1 Tbsp ground flax seed mixed with 3 Tbsp water)
120ml Almond milk
For the glaze:
120g icing sugar
25ml Almond milk
Method:
For the dough:
In a bowl sift together all your dry ingredients and place to one side
In another bowl add your melted butter and sugar and beat well together add your flax seed and mix until well combine
Now add half your dry ingredients and half the milk and mix, once combined add the the rest of the milk and dry ingredients and beat until you have a smooth dough
This dough needs to chill for as long as you can allow it, an hour at least more if you can. Over night would be perfect.
Once chilled roll your dough out to approx. 1/2" thick and cut out your doughnies, I made mine mini using 2 little round cutters, you can make them any size you like.
Heat your oil too (350°F/180°C) and fry your doughnies, my minis ones took about 60 seconds to cook, if your doughnies are bigger then will take a few minutes on each side.
Once they are cooked drain on kitchen paper to remove excess oil and either dip in the glaze or roll in sugar.
To make the glaze:
Mix the icing sugar and almond milk together to form a lovely thick dip able glaze
These little doughnies will keep in an air tight container for a few days if they last that long.