This rich decadent mousse will even fool your non-vegan friends its a perfect end to a dinner party or even a romantic meal.
I used Tescos frozen avocados* to make mine, Since finding these little treasures in the freezer section of my local Tesco I haven't looked back, I still buy the odd fresh avocado but these are a staple in my freezer.  Using the avocados frozen is perfect for smoothie bowls or this avocado mousse. If you have an avocado thats just past its best or your not going to use it before it goes off just de-stone, peel and freeze & use for recipes like this.
Never waste an avocado again.
This recipe is also refined sugar free and uses medjool dates to add the sweetness. If you find the dates do not add enough sweetness for your own personal taste you can add a few table spoons of date syrup or any other fruit syrup you like.
I love using raw cacao in my non baked treats.
Its the purest form of chocolate you can eat! & its packed full of antioxidants.  Raw cacao is processed very differently to traditional cocoa powder.  If you are making a raw treat you must use raw cacao.  Cacao is made by cold-pressing the un roasted cocoa beans and during this process the living enzymes in the cocoa remain and it removes the fat.  Cocoa powder is roasted at a high temperature and this reduces the living enzymes and changes molecular structure of the cocoa bean.
This mousse serves two, small portions: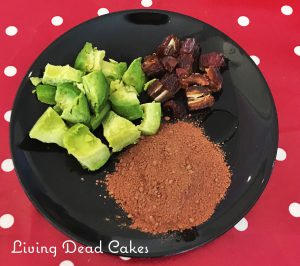 Ingredients: **see notes below
1/2 Frozen Avocado, chopped
10g Cacao powder
2 Large Medjool dates, pitted & chopped
1/2 Tsp Vanila paste
65ml Cold water
Pinch of sea salt
1 Tbsp. Date syrup* Optional
Whipped Soya cream/coconut cream to serve
Method:
In your blender add all your ingredients and blend until you reach a smooth constancy.
Place in the fridge in tiny dishes until you are ready to serve. Shot glasses are a good size for serving.
Just before serving top with a little whipped soya cream or whipped coconut cream.
It really couldn't be any easier.  You can add lots of other ingredients to this mousse, a table spoon of nut butter, some fresh raspberries, or some ripe banana.   Just use this basic recipe as a base and add anything else that takes your fancy. Toasted nuts sprinkled on top are a nice addition too.
**This mousse is very dark and rich if you would like it a little lighter.  You can use plant milk instead of the water and use 5-7g of Cacao powder and add some fruit syrup or extra dates for sweetness.
*Sadly my local Tesco hasn't had any for a few weeks and i can't find them online anymore. But you can use fresh avocados to make this or freeze your own when they have become to ripe.