I used to love Jaffa cakes, Full moon, half moon, Total eclipse!
Oh come on, I know you have sat there with a whole packet of them doing just that.
I have tried a few gluten free Jaffa Cakes and didn't really like them, they were dry, tasteless and didn't match up to the good old ones.
A few weeks ago I tired a Vegan & Gluten free traditional Jaffa cake. Vanilla base, orange jelly and dark chocolate.  I can honestly say it was the worst cake I had ever tried.
I was so disappointed.
Every element of it was wrong the base was dry and tasted like sawdust there was too much chocolate and it left a horrible aftertaste in my mouth.
My children even agreed it was horrible.
So as always I set out to try and make my own but with my little twist.
I swapped out the orange for raspberry, the vanilla base for chocolate and the Raffacake was born! A dark chocolate base, topped with jam, jelly & dark chocolate and a sprinkling of freeze dried raspberries.
I used my own home made jam but you can use any jam you like, I wanted to use dark chocolate as I wanted the rich chocolate to cut through the sweet cake and sweet jam/jelly but you can use any chocolate, White vegan chocolate on these would be amazing!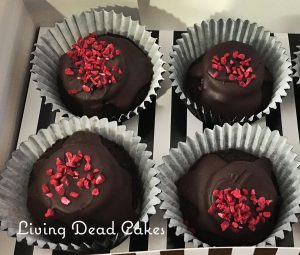 Ingredients: 
Makes 24:
For the cake:
100g Gluten free Self raising flour
80g Caster sugar
25g Cocoa powder
1/2 Tsp. Bicarbonate of soda
30ml Vegetable oil
1/2 Tsp. White wine vinegar
1 packet of vegan raspberry jelly
4-5 Tbsp Raspberry jam
250g Vegan chocolate
Freeze dried raspberris for decoration
Method:
Pre-heat your oven to 200c/400f/ or Gas mark 6 and grease a 12 cup bun tray
Make up your jelly according to the packet instructions and pour into a 31cmx21cm tray and place in the fridge to set, I made my jelly the day before so it had plenty of time to set. My jelly was about 5mm thick.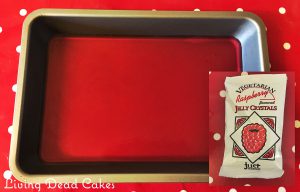 In a large bowl add all your ingredients for the cake base and mix until well combined & you have a smooth batter, add a tablespoon of batter to each cavity on your bun tray and bake for 5-7 minutes, remove from tray and cool upside down.
Repeat until you have made all your bases.
Once the bases are cool on what was the bottom add a little jam just enough to taste and to help the jelly sick, using a 1″ round cutter cut circles of your set jelly and place on top of the jam.
Melt you chocolate, Pour a tablespoon over the top of your jelly, while the chocolate is still wet sprinkle on some freeze dried raspberries and leave to set.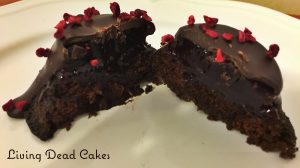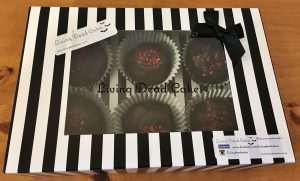 Once they are set you can add them to cupcake cases and put them in a cupcake box like i did. They make a great gift or just eat them all with a cup of tea.