Bananas! I love them! I could eat them all day.
This is the first recipe in a series of 5,  What to do with over ripe bananas!.
Coming in the other recipes are, Trail bars, Nice cream, Tea bread, & Peanut banana cake, so keep an eye on our social media to know when they are up.
Our Facebook  Give us a like
Never throw a over ripe banana away again!
---
Banoffee pie was one of the first deserts I made on my own when I was allowed to play around with boiling tins of condensed milk without blowing my self or the house up.  Now you can buy tins of pre made condensed milk toffee if you are making these non vegan, so gone are those days of playing with tins and boiling water.
A gluten free cupcake version was one of the first recipes I made when I had to go gluten free and now in turn I have made this recipe vegan.
Another perfect way to use up ripe bananas.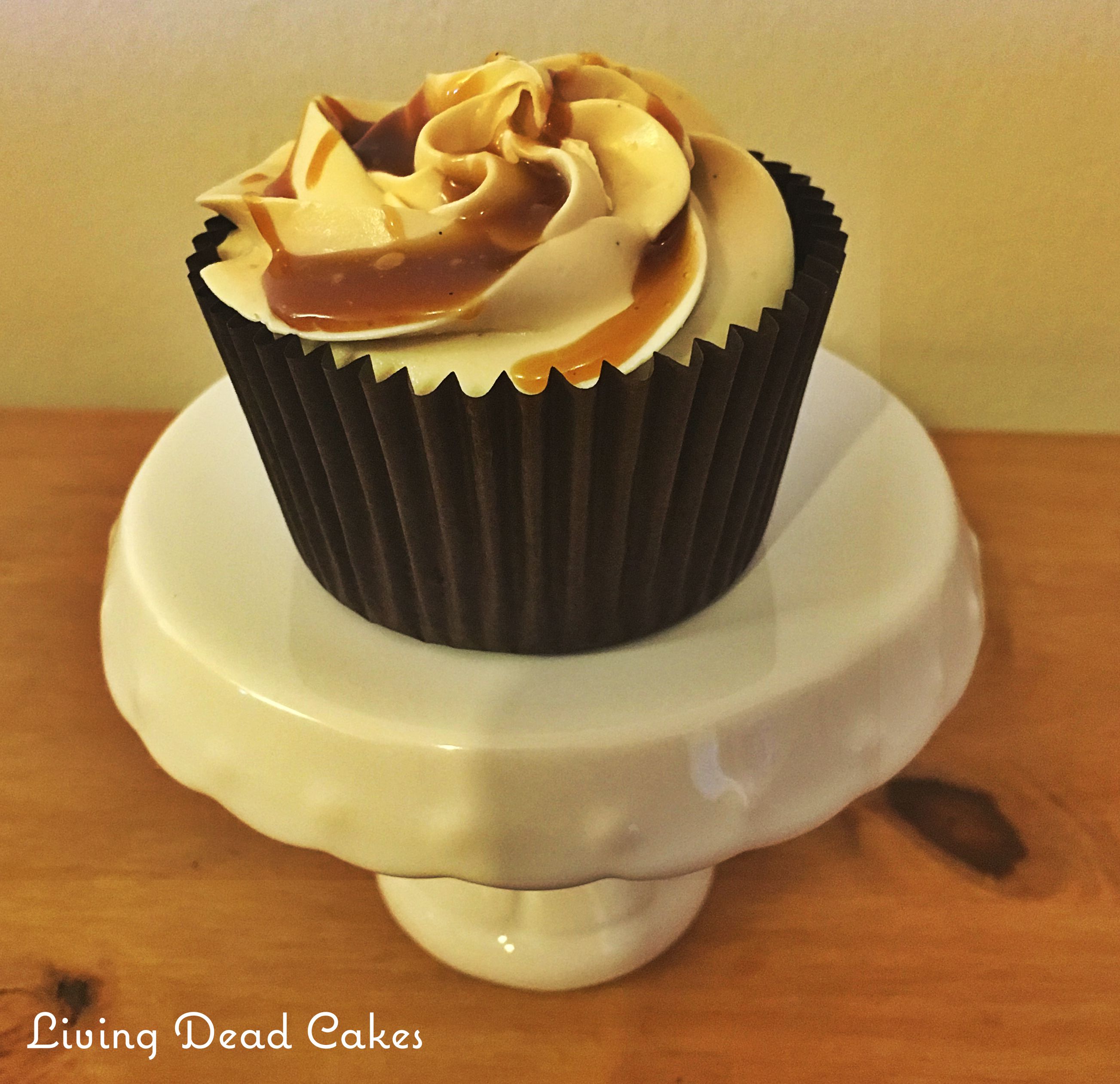 Ingredients:
Makes approx 6-8 cupcakes
For the cupcakes, 
150g Vegan butter
130g Soft brown sugar
2 medium mashed bananas
2 Flax eggs (2 Tbsp ground flax seed mixed with 6 Tbsp water)
160g Self raising gluten free flour
1 pinch of Bicarbonate of soda
1/2 Tsp Baking powder
For the toffee/caramel,
175g Soft brown sugar
65g Golden syrup
100g Vegan butter
125ml Soya cream
1 Tsp Vanilla bean paste
2 Tsp Cornflour mixed into a paste with a 4 Tsp cold water
For the banoffee butter cream frosting,
65g Dairy free butter
70g Vegetable shortening
1 Tsp of vanilla bean paste
500g Icing Sugar
2-3 Tbsp of the toffee sauce
Method:
Pre heat your oven to 375°F/190°C or Gas mark 5 and prepare your cupcake cases
For the cupcakes, 
Beat together your butter and sugar until light and fluffy,
Add the flax eggs, mashed bananas and all the dry ingredients and mix well until combined.
Dived between your cupcake cases and bake for 22-25 minutes until golden brown, or a tooth pick comes out clean,
Once baked allow to cool completely.
For the toffee/caramel
In a saucepan add your butter, sugar & golden syrup and bring the mix to the boil and simmer for 4-6 minutes.
Let the sauce cool for 3 minutes and add the cream & cornflour mix and heat gently to allow the sauce to thicken.
Once thicken allow the sauce to cool completely in the fridge. You will need it cold for the frosting.
For the butter cream
In a stand mixer beat your butter, shortening & vanilla bean paste together for a few minutes.
Now slowly add your icing sugar a few spoonfuls at a time.
Once you have added all your icing sugar add a few spoonfuls of your cold toffee/caramel and mix until combined.
Leave to one side ready for your cupcakes
Once you have made all the above elements and your cupcakes are cold you can now decorate them,
Take a cupcake and using an apple corer take out a small core in the centre and fill the hole with a tsp of the toffee sauce,
Now pipe a swirl of butter cream on the top of your cupcake and drizzle over a little extra toffee sauce,
Repeat with all your cupcakes and now they are ready to eat,