I have been dying to play around and make something using pumpkin and pumpkin pie spice. Once the cans of tinned pumpkin puree appeared in the shops I knew it was time to create something.
You can make all of these using just one can of pumpkin.  Or you can make your own pumpkin puree by de-seeding a pumpkin, cutting into chunks & roasting for 50-55 minutes (180c/350f/ or Gas mark 4) out the flesh into a bowl and puree with a blender.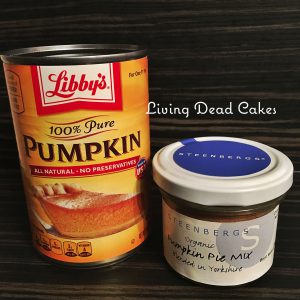 In this post there will be 3 NEW delicious recipes.
Pumpkin cheesecake brownies
Pumpkin spiced bites
Pumpkin spiced milkshake
All 100% vegan & gluten free.
For the brownies I baked mine using my 12 hole brownie tin,
If you would like to use a similar tin I found this one on Amazon for you.
---
Pumpkin cheesecake brownie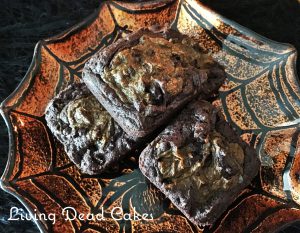 Ingredients:
For the brownie 
165g Caster sugar
100g Dark vegan chocolate
100g Dairy free butter
165g Plain gluten free flour
75g Chocolate soya yoghurt
1 Tbsp ground flax seed mixed with 4 Tbsp. cold water
1 Tsp Baking powder
For the cheesecake filling 
125g Pumpkin puree
100g Violife creamy soft cheese
25g Caster sugar
2 Tsp. Pumpkin pie spice*
*If you can't find pre made pumpkin pie spice you can mix your own,
By mixing 3 tablespoons ground cinnamon, 2 teaspoons ground ginger, 2 teaspoons ground nutmeg, 1 ½ teaspoons ground allspice and 1 ½ teaspoons ground cloves.
Method:
Pre-heat your oven to 160c/320f/ or Gas mark 3 grease your brownie tin
In a small bowl combine all your cheesecake filling ingredients & place to the side.
In a saucepan add your dairy free butter and chocolate and melt over a low heat.
Once melted add the caster sugar, and all your other brownie ingredients and mix well.
Divided your mixture between the 12 holes.
Add a generous teaspoon of the cheesecake mix to each cavity and using a tooth pick swirl it into the brownie mix.
Bake for 22-25 minutes**.
Once baked leave to cool for 10 minutes and then carefully remove them from the tin using a pallet knife and place on a wire rack to cool completely.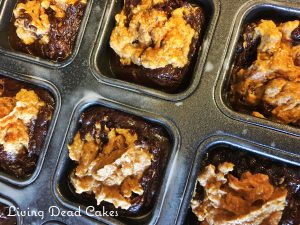 ** If you are baking this is a square brownie tin you will need to bake for 30-35 minutes.
---
Pumpkin spice bites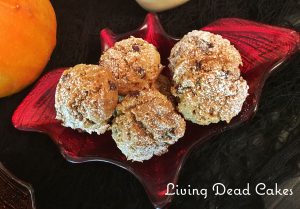 Ingredients:
Makes approx. 20-24 cookies depending on size.
110g Dairy free butter, Melted
100g Caster Sugar
85g Soft brown sugar
100g Pumpkin puree
235g Plain gluten free flour
65g Dark chocolate chips
35g Vanilla soya yoghurt
2 Tsp Pumpkin pie spice
1 Tsp Baking powder
Pinch of salt
2 Tbsp Icing sugar mixed with 1 Tsp pumpkin pie spice for decorating
Method:
Pre-heat your oven to 180c/350f/ or Gas mark 4 & line a cookie sheet.
Pour your warm melted butter over your two sugars and mix well.
Add the rest of your ingredients and mix until well combined to form your cookie dough.
Using a small ice cream scoop or two tea spoons place balls of mixture on your cookie sheet, place them about 2″ apart as they don't spread too much.
Bake for 12-13 minutes or until golden brown around the edges
Once baked remove from the cookie sheet and cool on a wire rack.
Dust with the icing sugar/pumpkin spice mix once cool.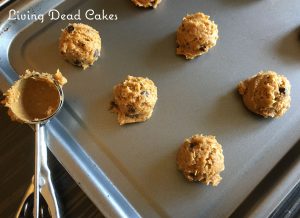 ---
Pumpkin spice milkshake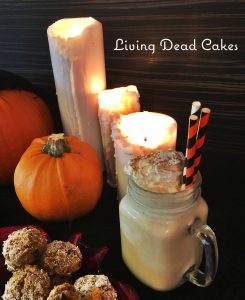 Serves 2
Ingredients: 
4 Tbsp pumpkin puree
2 Tsp Pumpkin pie spice
400ml Plant milk*
6 scoops of dairy free vanilla ice cream
Vegan squirty cream to decorate
1 Tsp. pumpkin pie spice to decorate
*You can use chocolate flavoured plant milk to make it chocolatey.
Method:
In a blender all your pumpkin puree, pumpkin pie spice, plant milk and 4 scoops of ice cream and blend.
Pour into a glass and top with one scoop of ice cream and some squirty cream add a little dusting of pumpkin pie spice to the top & serve.
---
If you make any of there recipes please don't forget to tag us on Facebook or Instagram,
I love seeing you all make my recipes.