Since my Birthday Cake Popcorn recipe went live I have been inundated with so many messages & requests  (13 in fact) for more Birthday Cake flavoured treats & in honour of our website being 1 year old today I thought today was the perfect day to share another Birthday Cake recipe.
Marvellous things have happened to Living Dead Cakes in such a short space of time since our website launch.  The last 12 months have been a totally spectacular rollercoaster ride, so much has changed and we have evolved each month, Im looking forward to so many more fun & exciting things that are to come within the next 12 months!
I would like to thank everyone for their love, support & messages of encouragement over the last year & for putting up with my insane cake ramblings & force feeding those close me all the recipes I have been creating for the website.
People have been asking about how they can support LDC, If you would like too please  have a look at our Support us page for all the ways you can help us and the charities we support. Don't forget to give our Facebook Page a like too.
This cookie is truly yummy, I may have put my self in a cookie induced coma while taste testing these, I needed a soya milk IV! STAT.
You can make these instead of a birthday cake & put candles in them like I did.
Happy 1st Birthday www.livingdeadcakes.co.uk I can't wait for the next year!
Ingredients:
For the cookies,
115g Vegan butter
150g Caster Sugar
50g Light Brown Sugar
200g Self rasing gluten free flour
70g Gluten free cake mix
1 Tbsp. Cornflour
1 Tsp. Baking powder
1 Tsp. Vanilla Extract
For the filling,
60g Vegan Butter
60g Vegetable shorting (Trex)
100g Gluten Free cake mix
200g Icing Sugar
2 Tsp. Vanilla Extract
8 Tsp. Strawberry Jam
Method: 
Pre-heat your oven to 180c/350f/or Gas mark 4 and line a cookie sheet with non stick parchment paper
Makes 8 cookie sandwiches 
For the cookies, 
In a bowl cream together the butter & sugars until light and fluffy,
Add the soya pudding, cake mix, flour, baking powder, vanilla, & cornflour & mix until well combined, cover bowl with cling film and allow to chill in the fridge for 2 hours, overnight if you can.
Once chilled scoop balls of cookie dough onto a baking sheet and top with a little of the sprinkles, they will spread a little so leave about 2″ between each cookie.
Bake for 13-16 minutes or until golden around the edges
Once baked move to a wire rack and allow to completely cool.
For the frosting filling & putting the cookies together 
In a bowl cream together the butter & vegetable shorting until light & fluffy
Add the icing sugar, cake mix, & vanilla and beat well, place in a piping bag. I used a 1M piping tip.
Once your cookies are completely cold pipe a circle around the base of the cookie and fill the centre with 1 Tsp, jam, top with another cookie.
Repeat with all your cookies,
Enjoy! These are seriously moorish!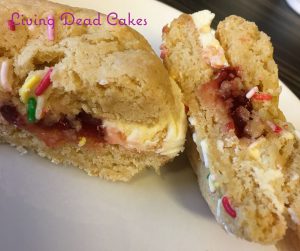 Here is to the next 12 months of Living Dead Cakes, lets get this ride started!
Like our Facebook Page to never miss a new recipe.