This is another what do to with over ripe bananas recipe,  for these trail bars you need bananas that are as black as night or as black as my soul! The darker the banana the better.
This recipe is sugar free! The only sugar in these are 100% natural occuring sugar from the fruit, NO added fruit syrup or coconut sugar. If your bananas are not quite black enough you can add a few table spoons of date syrup, but I find you don't really need it.
These are great for lunchboxes or mid morning snacks as they are packed full of seeds, nuts and fruit. You can add any nuts or seeds you like, these are lovely with some extra hazelnuts & peanuts.  Or if you are nut free just miss out the nuts and add some dried cranberries or even dark chocolate chips.  You can add anything you like to these to make them fit your tastes, Chopped apple and plums work great too.
I call them trial bars as I make these when my friend and I go hiking, we take them as a little snack for our children and they love them. We quite like them too.
They will keep in an air tight container for about 5 days.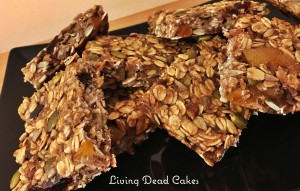 Ingredients:
170g Oats*
35g Pumpkin seeds
35g Sunflower seeds
45g Pecan nuts (chopped)
45g Dried Apricots (chopped)
55g Medjool Dates (chopped)
2 very ripe large bananas
1 Tsp Cinnamon or any spice you like  Optional,
Method:
Pre-heat your oven to 180c/350f/or Gas mark 4 and line a 23cm square tin with non stick parchment paper 
 In a bowl peel and mash your bananas.
Now add everything else and mix until well combined.
Pour the mix into your prepared tin and bake for 20 minutes or until the edges start to go a golden brown.
Remove from the oven and tip out onto a cooling rack and peel of the parchment paper.
Leave to cool and cut into squares
*If you can't have GF oats you can substitute for GF puffed rice cereal.
My tip: It helps to peel of the paper at step 4 otherwise the paper can stick them the bars are cold.