My favourite seasons are autumn & winter, It might be due to the fact I wear nothing but black and when its cold it means I can wear top to toe velvet and not melt but it also might have something to do with all the baking I do at the time of year.
These flapjacks are perfect for lunch boxes as they are nut free or for after school snacks, & great for our little vegan & gluten free children and our the first recipe from our "Vegan & Gluten Free Kids Series" I will be adding lots of recipes to this series, lots of fun things that children can get involved in baking and these flapjacks are the perfect to bake with children at any age, just make sure they have adult supervision.
I baked mine using my 12 hole brownie tin, this recipe makes 12 perfect little squares, If you would like to use a similar tin I found this one on Amazon for you.
I'm ok with certified gluten free oats but some coeliacs aren't, if you are not gluten free just use normal oats.
Ingredients:
250g Gluten Free oats
125g Dairy free butter
125g Soft brown sugar
40g Golden syrup
170g Sultanas
2 Medium apples grated
1 Tsp. Cinnamon
2 Tsp. Orange oil
Method:
Pre-heat your oven to 160c/320f/ or Gas mark 3 grease your brownie tin
In a bowl add your Oats, Sultanas, grated apple, cinnamon, orange oil, and set to one side.
In a sauce pan add your Sugar, dairy free butter, & golden syrup and melt on a medium heat until all the sugar has melted.
Pour this into the bowl and mix well,
Dived the mixture between the 12 holes and bake for 20-23* minutes or until the edges are starting to go golden brown.
Once baked allow the flapjack to cool in the tin for 5 or so minutes and then remove and allow to cool completely.
.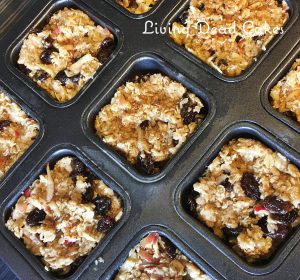 *If you are making this is one tin and not the 12 hole tin you will need to bake it for a little longer around 30-35 minutes
They keep well in an air tight container and you can switch it up and add anything else you children like, chocolate chips or other dried fruit.
I hope you like these as much as my family does. If you make them don't forget to tag us on Facebook or Instagram, I love seeing you all make my recipes.