There are so many ways to be wicked!
My Daughter and I are counting down the days until Disneys Descendants 2 is aired on the Disney channel. Friday 20th October can not come soon enough. 3 DAYS!!!
We know all the new songs and have seen lots of sneak peeks so all we need is the film!
If you are not familiar with what Disneys Descendants is about, it's about 4 of the main villains teenage children, We have Mal daughter of Maleficent, Evie daughter of The Evil Queen, Jay son of Jafar, & Carlos son of Cruella de vil. All the villains have been banished to an Island with no magic called the Isle of the Lost & Ben, son of Beauty and the Beast is going to be a king and wants to give the villain children a fresh start and allow them to come to Auradon and go to school.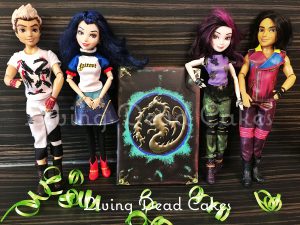 In honour of all things wicked I have made two yummy Descendants inspired recipes, Mal's love spell cookies from the 1st film and red dipped caramel apples from the new film. You don't have to add a real tear of human sadness to your cookies but I would if you have one to hand.
Mal's Love Spell Cookies, 
Ingredients:

115g Dairy Free Butter
150g Soft Brown Sugar
1 Tsp Baking Powder
1 Tsp Bicarbonate of Soda
1 Tbsp White Wine Vinegar
50g Ripe Banana
225g Gluten Free Flour
50g Dairy Free Chocolate Chips
1 Human Tear Of Sadness (optional)
Method:
Pre-heat your oven to 200c/400f/ or Gas mark 6 and line a cookie sheet with non stick parchment paper
In a bowl cream together your butter and sugar,
When light and fluffy add your banana and mix well again,
Now add all the rest of your ingredients and combine well,
If using now add your human tear of sadness 😉
Cover and chill in the fridge for a few hours

Once chilled scoop on too a cookie sheet and bake for 11-14 minutes.

Give away with caution, the course of true love never did run smooth. 
Ways to be wicked apples
Ingredients:
8 Red Apples
8 Wooden lolly pop sticks
420g Caster Sugar
4 Tbsp Golden Syrup
100ml Water
1 Tsp Vinegar
2 Tsp Vegan Red Food Colouring
(I used sainsbury's liquid colouring, its marked as vegan )
Purple & green ribbon for optional decoration
Method:
You will need a sugar thermometer, but you can buy them very cheaply in most supermarkets or online 
Wash your apples in hot water to make sure they are super clean, and add your wooden lolly stick, I used a hammer to push mine in, place on a cookie sheet lined with non stick paper,

In a medium saucepan add your sugar & water, cook until the water has dissolved
Now add your golden syrup and vinegar and bring to the boil
Boil your sugar mixture until you reach 140C and add your red food colouring, it will bubble up a little bit so be careful.

Keep boiling your sugar until you reach "hard crack" 154C
Once you reach 154C tip the sugar to one side of the pan and dip & roll your apple in the mixture and place on your lined cookie sheet,
Leave to cool and then they are ready to eat!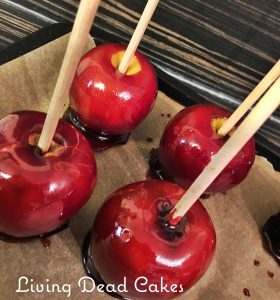 Wicked ways beneath the skin, Let all who taste it now join in.