What's a Christmas dinner with out those green little Brussel sprouts, the bane of many a children's Christmas meal, I love cabbage in any shape or form but I have up until now never really embraced the humble Brussel sprout.
I asked what Christmas things you all wanted to see and something with Brussel Sprouts was one that came up again & again, Many meat eaters add bacon to sprouts at Christmas & then that means another thing we can't eat!
As with lots of my Christmas recipes this one can also be prepared in advance and just lightly sautéed just before serving.
If you require more servings than my 4 that this recipe provides, just double the ingredients to get your required servings.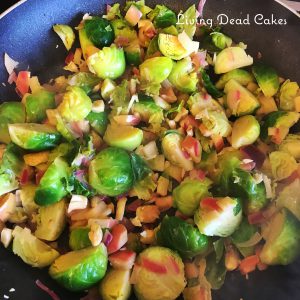 Ingredients:
450g Brussel Sprouts, Trimmed & cut into quarters
2 Red Onions, diced
2 Apples, cored & diced
100g Cashew nuts, chopped
1 Tbsp. Dairy Free Butter
4 Tbsp. Apple Juice
Salt & Pepper
Method: 
Serves 4 
In a saucepan blanche your trimmed and cut sprouts in salted water for 3-5 minutes,
Once blanched refresh in cold water and leave to drain,
In a frying pan melt your butter and add your diced onions & apples and lightly fry for a few minutes,
Add your sprouts, cashew nuts and apple juice & fry for another few minutes until the apple juice has evaporated.
Season with salt and pepper & serve.
My tip: If you would like to add some crunch to this, you can lightly dry fry your cashews and add them on the top when you season with salt & pepper